WELCOME!
My name is Alise Duerr and welcome to my site.
Please browse around - all patterns currently listed are colored pencil patterns.
If you have any questions, the best way to reach me is via email at
Alise521@aol.com
.
Now a little about meÖ I have been enjoying decorative painting since the late 1970's when the decorative painting world was at its peak. I have had the pleasure of learning from some of the greatest national teachers over the years. There is something to be learned from everyone that teaches even if you donít you prefer their style. Eventually, I began teaching classes and designing pattern packets and have most recently specialized in colored pencil designs. I strive to make my patterns beginner friendly to encourage everyone to have fun, as well as resulting in a successful piece of artwork.
My designs have been published in several craft and decorative painting magazines and Iíve been privileged to teach classes at the Heart of Ohio Tole Convention (HOOT), Houston Art Expo, and the annual National SDP Convention. I really enjoy teaching and sharing what knowledge I have accumulated with others. Please donít hesitate to
contact me
if youíre interested in a class - Iíd be happy to teach both large and small groups!
an original drawing of my daughter's beagle, Garth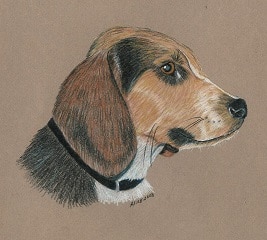 ---